Discover more from wellness wisdom
A newsletter for the thoughtful by Patricia Mou. A medley of thoughts on philosophy, meaning-making, & beauty
Over 5,000 subscribers
✨ 🧖‍♀️ Rei Wang's Wellness Wisdom Stack vol.4
Co-founder of The Grand by day, Nordic spas and scallion pancakes by night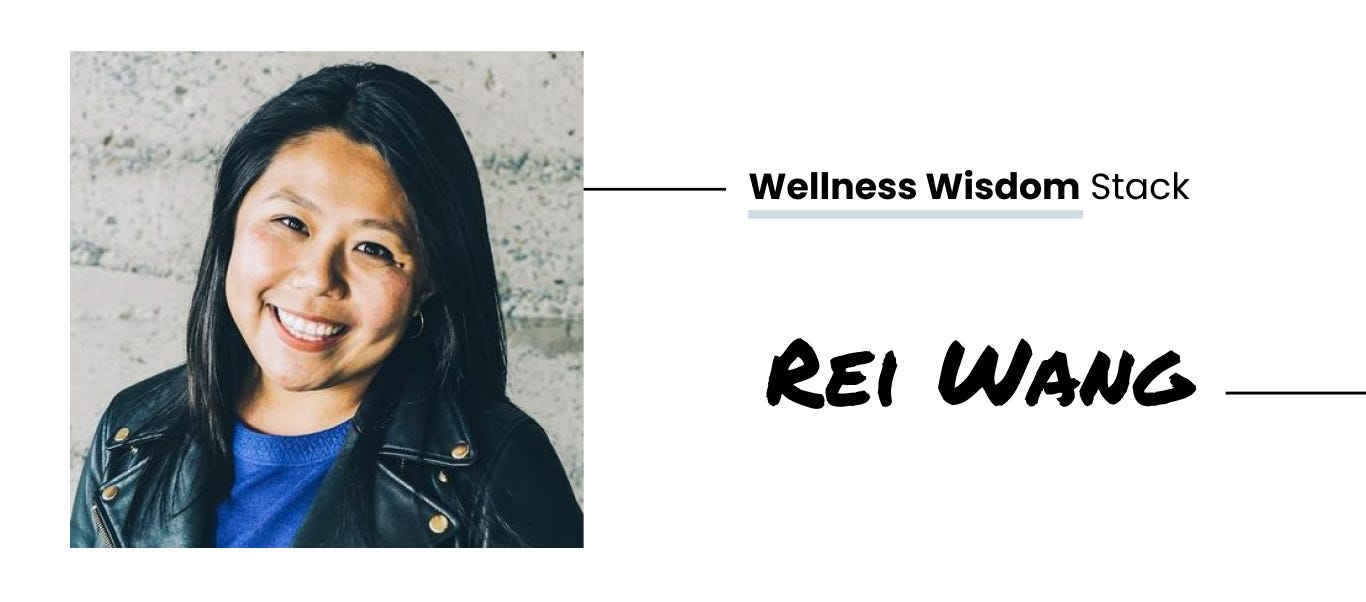 Hi all!
Welcome to the 1st Wellness Wisdom Stack ✨
Today i'm excited to feature one of my favorite humans, Rei Wang, and her Wellness Wisdom Stack. Rei is currently building The Grand. Prior to that, she was the CEO of Dorm Room Fund and led product/community at General Assembly.
I met Rei over an essay.
On a foggy SF morning, Rei invited a group of curious individuals for the purpose of vehemently dissecting an essay on status and social capital . It was one of the most honest and mentally riveting conversations I've had with a group of strangers.
Since then Rei has gone on to launch The Grand - a community dedicated to navigating life's big questions. Grand guides (individuals who have navigated and overcome various life experiences) lead small group discussions on topics like: "How can I deepen my relationship  with aging parents?", "When should I freeze my eggs?", or "How do I make a big career transition?". In a world where we often shoulder ambient existential angst alone whilst navigating life's twists and turns, The Grand is a welcome reprieve.
Now I'm excited to turn over the questions to Rei to better understand her Wellness operating system across Mind 🧠(emotional and intellectual) and Body 💪(self-care, fitness, nutrition).
Emotional
How do you reflect, regulate, and distill emotions?
Write your heart away - I find that physically writing slows me down enough to process my emotions. I love writing on paper with no lines while yielding one of my favorite felt tip pens (love Le Pen, Micron, Stabilo, and Staedtler) - 0.02 mm when I want to write about something specific and 1.0 mm when I want to be bold. The book Bird by Bird by Anne Lamott taught me to not overthink it and just put down a shitty first draft. That there's no such thing as a good writer.

Find friends who hold space - I seek out friends who are active listeners, reflect back what I'm saying, and are able to provide space for me without jumping to solutions or judgment. 

Coaching - When I was at DormRoomFund, I sought out coaches to help me define my own leadership style. My friend, and now co-founder Anita was getting her coaching certification and became my unofficial coach for a while before joining Reboot (a great place to find coaches, btw!)
Some additional books I recommend:
Intellectual
How/what do you like to learn?
Learn by doing - I learn best when I have skin in the game and there's a real life implication if I fail. I decided against going to business school for this reason - I could learn about how to start a business, or I could just start one. I'll also often find mentors/teachers who can jumpstart me towards the right direction.

Learn by osmosis - I also love learning via newsletters and podcasts. Some of my favorite podcasts include: How I Built This, Life Kit, and The Good Life Project. I also love following newsletters where the writer has a unique voice: my friend Farah's newsletter Sehat on wellness, my friend Hilary's newsletter called The Night Crazies, and Ann Friedman's newsletter. In the professional realm, Lean Luxe is great. I used to follow a lot of VC newsletters but have unsubscribed recently in an effort to nurture my capacity for original thought.
Self-care
What do you do when you want to take care of yourself?
Doing a water circuit/spa day like the Nordics do - this involves alternating between a hot soak and quick cold plunge to wake up my circulation. I love treating myself to hot springs and spas as well. In SF, you have Onsen and Pearl Spa. In the East Bay, Piedmont Springs. And near Napa, Orr Hot Springs (you can stay in a yurt over the weekend!) and Cafe Moka (Finnish hot spring oasis).

Take a hot shower with a scalp massager - I got this scalp massager at Daiso and use it to shampoo my hair the shower. A few reps with it melts all the stress away.

Skincare routine with Haldi - My friend Simran started Haldi, a company that personalizes your skincare routines and sends you products quarterly. I used to have lots of dark spots from scuba diving, but my new routine changed all that. During the day I use: Oskia cleansing gel, Belief Moisturizer, Thank You Farmer SPF. For the evening I use: Good Genes and Tata Harper's Beautifying Face Oil.

Sleep - No caffeine after 3pm. I sleep at least 8 hrs every single night as it's a non-negotiable for me. I leave screens outside the bedroom and read a book to wind down each evening. Also bedding is V important: I love cold sheets and pillows, specifically from Brooklinen! 
Fitness
My favorite ways to stay fit: tennis, running, yoga, and long walks. Swimming is one of my favorite exercises because it feels like a sensory depravation tank where I can't get distracted (not even with music) and can do the same physical movements over and over again, inducing a relaxing meditative state.
Nutrition
I live to eat, not eat to live - I abide by the philosophy that food is something that we should enjoy and one of the best parts of culture universally. I've tried lots of restrictive diets but realized that the best diet is one in which you're conscious of where your food is sourced and how it's made. Nothing makes me happier than getting fresh produce from Berkeley Bowl and spending many hours perfecting a recipe from Smitten Kitchen.

Quarantine Dim Sum - Lately I've been using Shelter in Place as an opportunity to recreate my favorite childhood push cart favorites: Scallion pancakes (Add Lao Gan Ma sauce), Nuo Mi Fan (sticky rice with sausage and mushrooms), and Mango Sticky Rice (I like to add black sesame).

Favorite East Bay restaurants - if I must go out a few of my favorites include: Great China in Berkeley (Peking duck!), Reems in Oakland (eclectic assortment of flat breads and dips) , and Grégoire (Chez Paniesse take-out window with amazing potato puffs).
Some of my key takeaways? 
Write like no one's watching (with mindfully chosen pens)

Do as the Nordic's do and have more spa days 

Slow down to go faster 
This concludes Rei's Wellness Wisdom Stack. If you enjoyed please follow Rei and share this with your friends & family! 💌 If you have any feedback, hit reply and I promise to read and respond.
wishing you peace & health,
Patricia
Patricia is a curious human, product manager, community builder, and carer of souls. I love meeting strangers and connecting deeply with old friends - feel free to drop a line via Twitter or reply to this post.